| | | | |
| --- | --- | --- | --- |
| New York | London | Limassol | Tokyo |
DAMEN GREEN SOLUTIONS
SCRUBBER SOLUTIONS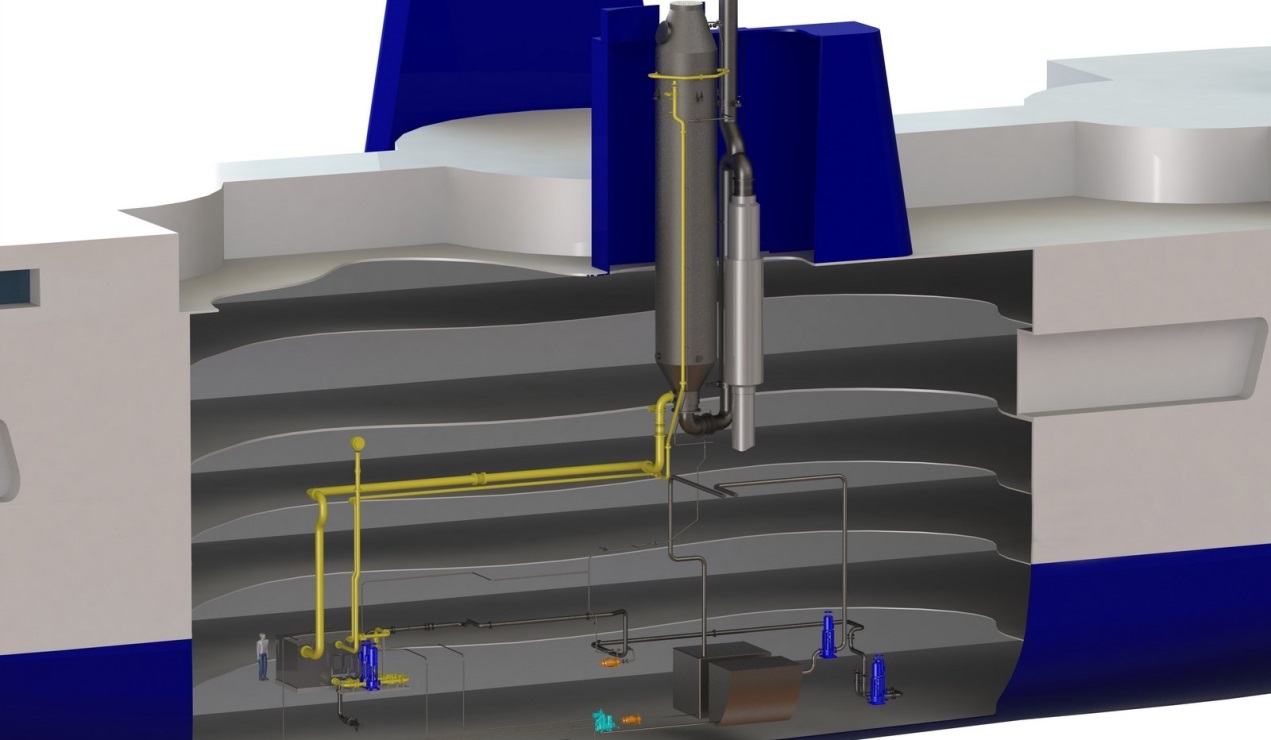 Damen Shipyards Group has signed a Sales Agreement with scrubber producer Bluesoul Kamelia and will now be able to offer ship owners exclusive access to efficient, low maintenance and IMO-certified exhaust gas scrubber technologies to meet the new global sulphur cap of 0.50% (m/m) in 2020.

With the inclusion of scrubber expertise to its existing knowledge of Ballast Water Treatment Systems, Damen has added an important facet to its strategy of providing ship owners with a total solution regarding the latest IMO requirements.

Scrubbers provided through Damen are tailor-made solutions. The size depends on the maximum capacity of the engine and if space is limited the size can be adjusted, keeping the lowest energy consumption and lowest back pressure in mind. They can be installed on all types of engine and they allow vessels to run on traditional Heavy Fuel Oil (HFO) instead of the more expensive Marine Gas Oil (MGO). In terms of efficiency, the scrubbers remove more than 98% of sulphur from exhaust gases; thus exceeding IMO requirements. The systems also comply with MARPOL Annex VI (MEPC 58 and 59).
Damen will enable all activities – on-board visits, 3D-scanning, Engineering, Piping, Project Management and Installation – to be executed under one roof at any Damen shipyard e.g. Curacao, Brest, Rotterdam. The Agreement also details AEC's involvement in after sales service and maintenance contracts.
Bluesoul Kamelia combines the very best of European design technology with Chinese know how, cost effective fabrication and the CERTAINTY of allocation of drydock slots / installation facilities in highly experienced shipyards. Combined with Damen Shiprepair & Conversion's wealth of experience with retrofit activities, executed not only at competitive costs but with short lead times, this recognised product further strengthens Damen's 'one-stop-shop' philosophy for clients looking for comprehensive solutions.

For more information visit Damen Green Solutions website at:
www.damenballastwatertreatment.com
Bluesoul Kamelia is able to minimize Opportunity losses by using AR (augmented reality technology) to speed up the installation process and to minimize errors that affect installation duration and cost. Bluesoul Kamelia has all the requisite capabilities and partnerships in place to deliver typical scrubber systems within 6 months of contract award.
In addition, they are experts in Oil & Gas standards, methods for planning and execution and they have vast experience in scrubber delivery from both technical and commercial perspectives. No drydocking or cofferdams needed. Bluesoul Kamelia offers revolutionary work on voyage.
Click here for the website of Bluesoul Kamelia